Macallan 10 Year Old Fine Oak: ……
The Macallan distillery was founded in 1824 by Alexander Reid. The number of stills at Macallan has grown over the years along with the whiskies popularity. In 1965 the stills where increased from 6-12, in 1974 from 12-18 stills and in 1975 the number was increased to 21 stills.
All the whisky produced at the distillery is matured in Oloroso sherry casks. 75% of production is sold as single malt and the remaining 25% goes into blends such as Famous Grouse, Cutty Sark, J & B, Chivas Regal, Ballantine's or Long John.
The Macallan single malt is a favourite with malt whisky drinkers worldwide and is often given the label "The Rolls-Royce of single malts"
Colour: Pale Straw.
Nose: Complex, with hints of fruit and heather honey.
Taste: Soft, with a maltiness, balanced with oak and fruit.
Finish: Lingering with hints of oak and fruit.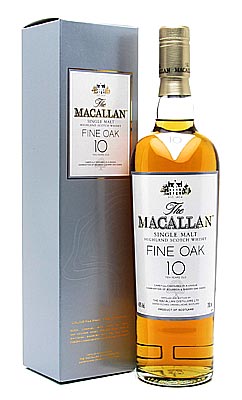 Ray on November 7th 2010 in Whiskey
Leave a Reply